Tuesday, August 25th, 2015 by
Lisa Harrison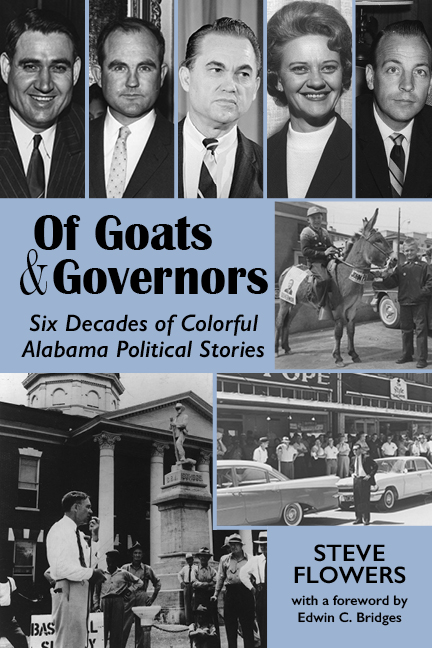 Talking politics is a favorite Alabama pastime. At long last, a generation's worth of tales "you couldn't make up if you tried" has been collected and delightfully recounted by Alabama's leading political commentator, Steve Flowers.
Of Goats & Governors: Six Decades of Colorful Alabama Political Stories, just published by NewSouth Books, is off to a stellar launch with Governor Robert Bentley among its first readers. Steve Flowers is being featured in newspapers and radio and television interviews as he travels to book events across the state, where he share stories from his rich collection of tall tales and small tales about famous and lesser known Alabama politicians of the twentieth century, including the likes of Howell Heflin, Big Jim Folsom, and others. There is nobody better to relate this history than Flowers.
Alabama governor Robert Bentley enjoys
Steve Flowers's new book Of Goats & Governors
The Troy Messenger recently profiled Flowers on the occasion of the book's publication. Flowers told the paper, "Few states have as fascinating a political history as Alabama. I was fortunate to have rubbed elbows with some of the most interesting figures in 20th-century American government and politics." The article recounts Flowers's career in Alabama politics from legislature page through representative through his current occupation as the state's leading political commentator. Flowers's book talks have been featured in papers including the Cullman Times, Trussville Tribune, and the Daily Mountain Eagle.
Flowers launched the Of Goats & Governors book tour in Cullman with a visit to the Cullman Times, a talk to regional realtors, and a signing at Deb's Bookstore. Flowers stopped at the Haleyville Library next and went on to Jasper with a visit to the Daily Mountain Eagle and a presentation at the Walker County Republican annual summer meeting. Through the fall, Flowers will present at over 40 other venues including the Alabama Department of Archives and History in Montgomery (October 6) — Governor Robert Bentley will attend the reception — the Birmingham Library (October 22), and the Auburn University Library and East Alabama Museum in Opelika (November 12).
Of Goats & Governors is available from NewSouth Books or your favorite bookstore.