Wednesday, February 16th, 2011 by
Sam Robards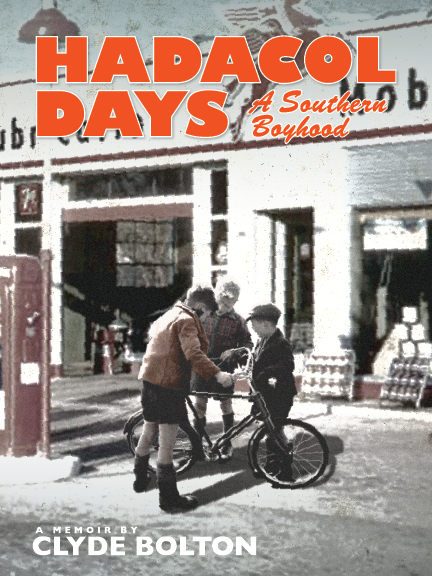 For the second year in a row, a NewSouth Books author was named to receive the Clarence Cason Award, presented by the journalism department of the University of Alabama's College of Communication and Information Sciences. The award recognizes exemplary non-fiction over a long career. Rheta Grimsley Johnson was last year's award-winner.
This year, the honor goes to Clyde Bolton, who's had a distinguished 46-year career as a newspaper journalist and is the author of many fine works of non-fiction, including most recently a memoir published by NewSouth, called Hadacol Days: A Southern Boyhood, and also Stop the Presses (So I Can Get Off).
The Clarence Cason Award announcement follows several recent articles praising Bolton, his illustrious career, and the charm of his latest memoir.
You don't have to be older to enjoy Hadacol Days: A Southern Boyhood, an effervescent story about growing up in small-town Georgia in the 1940s and '50s. But as George Smith observes in a recent Anniston Star column, "it's a warm read, a delightful read, and a good guess is if you're of Clyde's generation and mine you lived the read."
Joe VanHoose in the Athens Banner-Herald also praised Hadacol Days. He noted that the book from this "renowned Southern sportswriter" is not "just a memoir; it's a tribute to a different time and place."
In a story that ran a few weeks back in The Daily Home, Clyde tells how he became a sports reporter by covering church softball games for the Anniston Star, then segueing his brief experience there into a full-fledged job at the LaGrange Daily News. Queried in the article about getting a job at The Birmingham News, where he worked for a good many years, Bolton says "I would have cleaned commodes there."
As the Daily Home observes, Hadacol — an elixir of 12% alcohol that was supposed to cure anything — isn't around anymore, but thankfully gifted writers like Bolton are here to remember the popularity of the concoction among high school kids.
Bolton has been honored repeatedly for his work, including by the Associated Press. He has also received the All-American Football Foundation's Lifetime Achievement Award, is three-time Alabama Sports Columnist of the Year, and in 2001 he was inducted into the Alabama Sports Writers Hall of Fame. The Clarence Cason award is the crowning achievement in a distinguished career of journalism and fiction and non-fiction writing.
Tickets for the dinner honoring Bolton are $60. The event will begin with a 6 p.m. reception. Bolton will accept the award and speak at the dinner. To order tickets, phone Sheila Davis at 205/348-4787.
Hadacol Days is available from NewSouth Books, Amazon.com, or your favorite retail or online bookseller.