Thursday, February 14th, 2013 by
Brian Seidman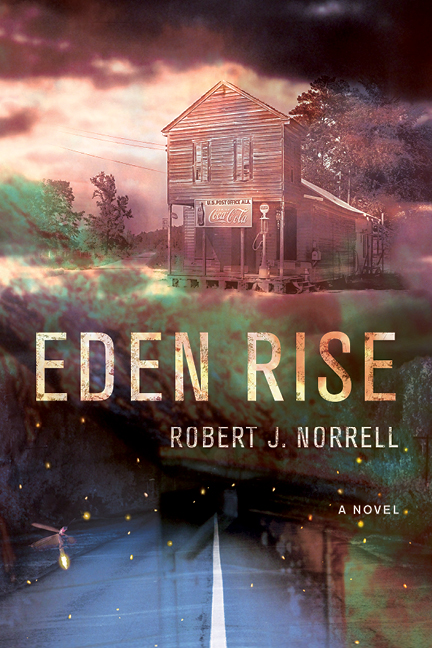 "The way we have written and talked about the Black Belt in Alabama in 1965 has been subject to some caricature," author Robert Norrell told WBHM's Tapestry's Greg Bass, talking about Norrell's new novel Eden Rise, "and there was an opportunity [in Eden Rise] to make a much more textured exploration of what actually happened at that time."
Norrell is a professor and long-time civil rights scholar, winning the Robert F. Kennedy Book Award in 1986 for his book Reaping the Whirlwind: The Civil Rights Movement in Tuskegee. In Eden Rise, progressive white college student Tom McKee returns home with a couple of black friends. They're mistaken for Freedom Riders and fired upon, but when Tom fires back, he becomes the one facing charges. Eden Rise is his first work of fiction, based in part on Norrell's own home town of Hazel Green in Alabama's Black Belt.
"It does not read like a first novel, however," writes Don McKinney in a review in the Island Packet. "Norrell is not only a historian, but a gifted storyteller, and he does an excellent job of bringing a large and diverse cast of characters to life. He has been compared with both Harper Lee and John Grisham, which is pretty impressive company, and he has a keen eye for the details of the places he writes about."
StarNews's Ben Steelman praises [Eden Rise] also for the female characters that Norrell creates. As Tom's father turns away from him, "Tom finds redemption … through what might be called the feminine principle. His mother, his sister Cathy and his formidable Irish-American grandmother, Bebe, show him the angels of their better natures and point toward a possible future that's kinder and gentler," Steelman writes. "And while Eden Rise tells a darker, more twisted tale than To Kill a Mockingbird — courthouse veteran Joe Black Pell pulls some tricks, in Tom's defense, to which Atticus Finch would never stoop — Tom, through the women of his family, finds grounds for hope and faith."
The Montgomery Advertiser's Mollie Waters also called Bebe a "standout" character, along with Marvin, a black bodyguard from the North who's called to protect Tom from the burgeoning supremacist unrest around his trial. The Tuscaloosa News's Don Noble also enjoyed Marvin, whom Noble described as "a tough customer who … carries at all times a switchblade and a pistol. He is hip, strong, cool, listens only to R&B and soul music, and often seems bemused by the rurality around him. … The fight scenes in which Marvin protects Tom are beautifully done and would be worthy of a Robert Parker, whose fans will think of Spenser's sidekick Hawk. In fact, Marvin eventually buys a BMW."
Noble continues that "Norrell has generated an interesting cast, male and female, black and white, through all social classes and three generations. A debut novel, Eden Rise is a genuine success."
Read more about Eden Rise from the Island Packet, StarNews, Montgomery Advertiser, and Tuscaloosa News, and listen to Greg Bass speak with Robert Norrell from WBHM's Tapestry.
Eden Rise is available from NewSouth Books, Amazon, or your favorite bookstore.