Wednesday, October 26th, 2011 by
Noelle Matteson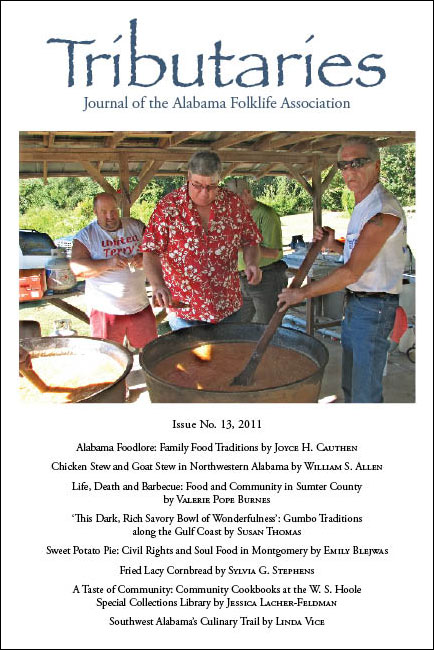 NewSouth Books is pleased to have been involved with the Alabama Folklife Association's annual journal Tributaries from the beginning. Named after the waterways that divide the state's regions from the Coastal Plain to the Tennessee Valley, Tributaries is also a symbolic title. As Jim Carnes said in the premiere issue, "The state's cultural landscape, like its physical one, features a network of 'tributaries' rather than a single dominant mainstream." Tributaries's thirteenth issue will be released later this month.
The Alabama Folklife Association (AFA) plays a significant role in documenting Alabama's distinct identity through festivals, conferences, and publications like Tributaries. The journal is edited by the AFA and designed and produced by NewSouth in consultation with the AFA. NewSouth Editor-in-Chief Randall Williams called the collaboration "a happy pairing of interest and abilities."
Themes that Tributaries has explored over the past thirteen years include issues on Alabama blues, sacred music, language, and food. Tributaries also features reviews of "documentary products" such as books, films, and sound recordings. Many issues include obituaries of noted Alabama figures, including blues musician Willie King, folklorist Bess Lomax Hawes, and storyteller Kathryn Tucker Windham (in the upcoming thirteenth issue).
Members of the NewSouth family have also written for Tributaries, including former staff member Kevin Nutt (now with the Alabama Department of Archives and History) writing on blues music in Butler County, and author Jacqueline Matte (They Say the Wind is Red) exploring the Indian term "Yakni" as evinced by the Choctaws' relationship with the environment. Numerous articles over the years have studied the Alabama branch of Sacred Harp music, also known as shape-note singing (issues 4, 7. 8, and 12). Other writers have pursued the Alabama roots of the folk legend John Henry (issues 5 and 11).
The Alabama Folklife Association provides a great service by capturing these valuable stories. To submit articles or to learn more about Tributaries, please visit the AFA website.