Wednesday, November 7th, 2012 by
Brian Seidman
Poet and NewSouth Books author Andrew Glaze received the commission for Poet Laureate for the State of Alabama this past week. In attendance at the ceremony were NewSouth publisher Suzanne La Rosa and Acquisitions Editor Noelle Matteson.
Glaze, 92, has published thirteen books of poetry including Remembering Thunder (NewSouth Books, 2002), and his work has also appeared in major literary journals and magazines. Glaze was born in Nashville and grew up in Birmingham, leaving and then returning to the city after serving in the Air Force in World War II. His first major book of poetry, Damned Ugly Children, was a runner-up for the Pulitzer Prize. He will be Alabama's eleventh poet laureate.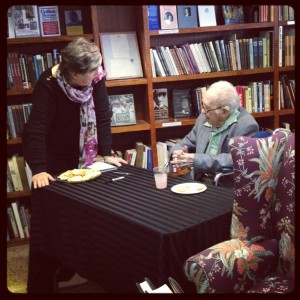 Andrew Glaze signs books at a reception at the NewSouth Bookstore (Corisa Waldrop)
A member of the Glaze family has posted a video on YouTube of Glaze receiving the commission from Alabama governor Robert Bentley. "Today we celebrate a man who has made a great literary impact not only on the state, but on everyone who has read his work," said the governor.
AL.com's Amber Acker reported that when Glaze was asked for advice to young writers, he suggested developing "good work habits. When I worked at the (Birmingham) Post-Herald, if I had an idea for a poem or a play, I'd rush home after my workday and work on it."
A reception at NewSouth Books, co-sponsored by the Alabama Writers' Conclave, the Alabama State Council on the Arts, and the Alabama Writers' Forum, followed the ceremony at the State Capitol.
Read more about the ceremony from AL.com or the Alabama Writers' Forum.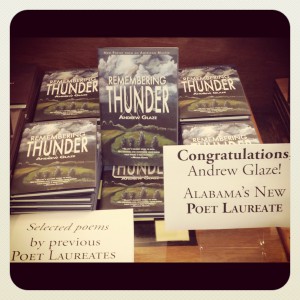 Andrew Glaze's Remembering Thunder, at the NewSouth Bookstore (Corisa Waldrop)
Remembering Thunder is available direct from NewSouth Books, Amazon.com, or your favorite bookstore.
NewSouth also published These I Will Keep, a collection of poems by Alabama's first nine poet laureates, through Helen Norris, edited by Alabama's eighth laureate, Helen Blackshear.