Wednesday, January 28th, 2009 by
Brian Seidman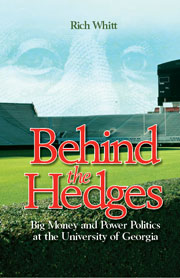 Pulitzer Prize-winning journalist Richard Whitt died Monday, January 26, at his home in Marietta, Georgia, of a heart attack; he was 64. Rich was the author of Behind the Hedges: Big Money and Power Politics at the University of Georgia, forthcoming from NewSouth Books.
As reported by the Associated Press, Rich received a Pulitzer Prize for his coverage of a fire at the Beverly Hills Supper Club in Southgate, Kentucky, in 1977; his reporting led to criminal charges and changes to fire-safety laws. Rich graduated from the University of Kentucky School of Journalism and worked at the Louisville Courier-Journal and the Atlanta Journal-Constitution before retiring in 2006. He was an inductee into the Kentucky Journalism Hall of Fame.
In the Courier-Journal, colleague Stephen Ford called Rich "a pit bull of a reporter. Once he got hold of a good story, he wouldn't let it go. He'll be remembered in Kentucky journalistic history chiefly, of course, as the reporter who won a Pulitzer Prize for coverage of the Beverly Hills Supper Club tragedy, but he went on to compile an impressive body of important work."
In Behind the Hedges, Rich focused his investigative lens on recent events at the University of Georgia, and in so doing examined the bigger story of "a sea change in how America supports its institutions of higher education." Through interviews with many key figures in a struggle for power at UGA over the last decade, Rich examines the controversial tenure of Michael Adams as UGA president, and how this controversy led to the unprecedented split between the Board of Regents and the UGA Foundation, with implications for the landscape of higher education funding nationwide.
Read more about Rich from the Associated Press and the Courier-Journal. Donations may be made to the University of Kentucky School of Journalism Richard Whitt Memorial Fund for Rural Journalists.