Friday, February 6th, 2015 by
Brian Seidman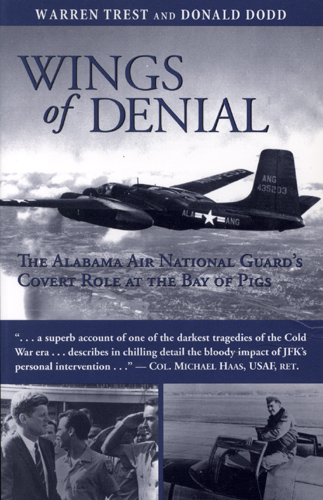 One of "Birmingham's best bars" has a military connection within its long, storied history. A recent AL.com article by Jesse Chambers, "Stories of CIA missions, rats shot with pistols make Airport Inn, est. 1938, one of Birmingham's best bars," featured the Airport Inn bar in East Lake near the Birmingham-Shuttlesworth airport. Opened in 1938 as The Baseball, the almost 80-year-old bar still serves a thriving group of regulars.
Many of those regulars, Chambers notes, are veterans. He writes, "The bar is a long-time haunt for members of the Alabama Air National Guard, based less than a mile away at Birmingham-Shuttlesworth."
In fact, the bar even earned a footnote in Cold War lore, when Alabama's Air Guard played a key role in the Bay of Pigs debacle of 1961, a U.S. attempt to topple Cuba's Fidel Castro.

Guard pilots and crewman — as well as some of the workers at Hayes Aircraft Company at the airport — were recruited for the CIA-directed invasion and sent to secret bases in Guatemala and Nicaragua to train Cuban exiles that would fly B-26 bombers.

"The Air Guard members gathered at the inn the night before leaving Birmingham to go on the Cuban mission and partied there when they came back," according to the book Wings of Denial: The Alabama Air National Guard's Covert Role at the Bay of Pigs, by Warren Trest and Donald Dodd [published by NewSouth Books].

"Sometimes reporters went to the Airport Inn looking for a good story," Trest and Dodd wrote. "The Birmingham warriors didn't stand on protocol, and anyone could forget that 'loose lips sink ships' when the beer was flowing and the hair was down."

Roy Wilson, one of the Guard members involved in the CIA venture, even moonlighted as an Airport Inn bartender, according to the book.
Read Jesse Chambers's feature on the Airport Inn from AL.com, part of Chambers's series on the oldest surviving bars in Birmingham.
Wings of Denial: The Alabama Air National Guard's Covert Role at the Bay of Pigs is available from NewSouth Books or your favorite bookstore.