Friday, August 29th, 2014 by
Brian Seidman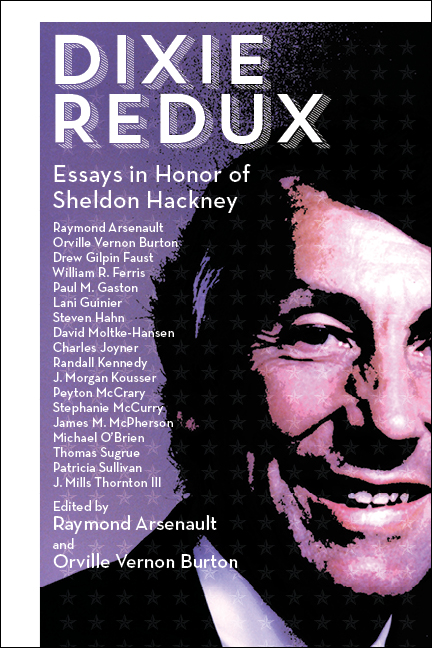 Friends and contributors to Dixie Redux: Essays in Honor of Sheldon Hackney came together at a July 31 program to remember Hackney, as part of the Chilmark Author Lecture Series at Martha's Vineyard.
The panel discussion, lead by journalist and friend of Hackney's Charlayne Hunter-Gault, included a selection of the Dixie Redux contributors (each authors and scholars in their own right) Vernon Burton, Ray Arsenault, Steven Hahn, and Patricia Sullivan.
Hackney was born in Birmingham, Alabama. During his long career he served as provost of Princeton, as president of the University of Pennsylvania and Tulane University, and as chairman of the National Endowment of the Humanities.
Burton and Arsenault conceived Dixie Redux — a festschrift, or book written in honor of a mentor — prior to Hackney's recent diagnosis with ALS and death in 2013 at age 79; NewSouth Books published it just weeks after his passing. Hackney had been Burton's Ph.D. advisor at Princeton and Arsenault worked as Hackney's research assistant at Princeton. Burton told the Vineyard Gazette in March 2014 that they "wanted to show [Hackney]'s intellectual ideas, and how he influenced others in terms of their ideas and writings of the American South. … [Hackney] was foremost one of the great historians of the American South."
In response to a Vineyard Gazette obituary of Hackney, Hunter-Gault wrote, "Sheldon Hackney showed the world how to be a great human being, a fine Southern gentleman, and a dear friend who never said no when asked a favor — large or small. He will always be a presence in my soul as one of our greatest teachers of all things good. from great and unpedantic scholarship to the love of a double gin martini."
The essays in Dixie Redux deal with issues of interest to Hackney and his students, including slavery, the Civil War, Emancipation, the African American experience, and the Civil Rights Movement. The book includes an essay by Hackney himself about his own mentor, southern historian C. Vann Woodward.
Pictured: From left, at the Chilmark Author Lecture Series event, Lucy Hackney (Hackney's widow), Susan Wishingrad, Patricia Sullivan, Vernon Burton, Steven Hahn, Waldo Martin, Ray Arsenault, and Declan McBride (Hackney's grandson).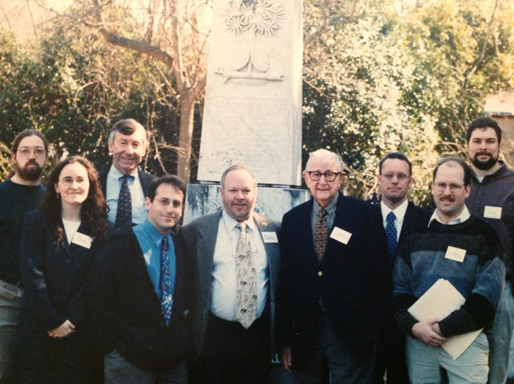 Four Generations of C. Vann Woodward Scholarship. Pictured: Sheldon Hackney, student of C. Vann Woodward, third from left; Vernon Burton, student of Sheldon Hackney, fifth from left; Woodward, sixth from left; and a half-dozen of Burton's graduate students.
Dixie Redux: Essays in Honor of Sheldon Hackney is available from NewSouth Books, Amazon, or your favorite bookstore.