Thursday, June 23rd, 2016 by
Lisa Harrison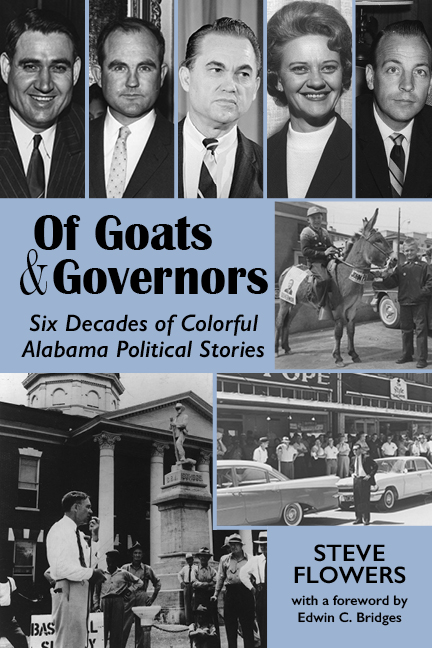 Of Goats & Governors: Six Decades of Colorful Alabama Political Stories author Steve Flowers "accomplished something phenomenal" when he spoke to the Grove Hill, AL Book Club on June 24, says Annell Gordon, who coordinated his visit. "He took the sensitive topic of politics and made it a fun conversation — a real rarity in these divisive times."
While visiting Grove Hill, Flowers chatted with radio talk show host Deborah Rankins (The Rankins Files), who said, "I applaud him for preserving Alabama's colorful political history with such great humor. Generations to come will enjoy his stories." Added Gordon, "Several of our book club members have said they wished Steve would run for governor. Two or three have even offered to help him campaign." Now there's an idea!
Steve Flowers signing Of Goats & Governors for Deborah Rankins
Annell Gordon, Deborah Rankins, Jim Herod (Book Club President), Steve Flowers,
Jim Cox (Editor, Clarke County Democrat), and Linda Vice (Director of Tourism for Rural Southwest Alabama)
Of Goats & Governors is available from NewSouth Books or your favorite bookstore.