Wednesday, February 25th, 2015 by
Brian Seidman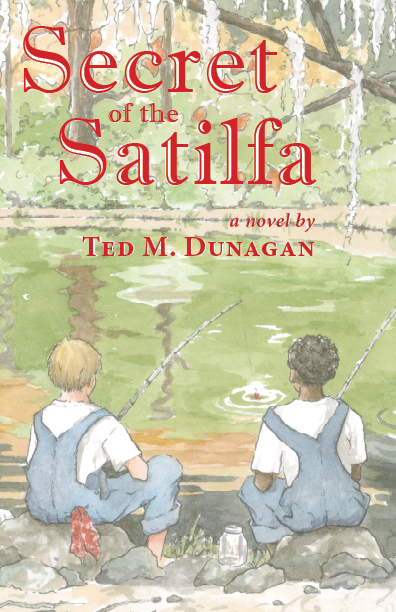 Ted Dunagan's books Secret of the Satilfa and Trouble on the Tombigbee have both been chosen as Accelerated Reader books for students, selected by Renaissance Learning. These are Ted's second and third novels for middle-school readers, following A Yellow Watermelon, which was selected as an Accelerated Reading title in 2009. Dunagan is a three-time Georgia Author of the Year Award winner for his first three books, and his newest in the series, The Salvation of Miss Lucretia, has also been nominated for the Georgia Author of the Year Award.
Dunagan's books follow young Ted and Poudlum, two boys in 1948 Alabama who bond despite their different races. Over the course of the series, the boys solve mysteries and have many adventures, often reminding themselves and their town that the similarities between them are far greater than their differences. A stage play based on A Yellow Watermelon premiered in March 2014 in Coffeeville, Alabama, with the Grove Hill Arts Council, and will be produced again this year.
Students at Wilson Hall Middle School in Grove Hill, Alabama, big fans of Ted's books, have been involved with the Accelerated Reading Program since kindergarten. Students select books that match their reading levels, read them at their own pace, and then take a quiz developed by Accelerated Reader. The quizzes monitor and provide for teachers and students immediate feedback regarding reading performance and vocabulary growth, and prizes help incentivize the students to keep reading.
When A Yellow Watermelon was named an Accelerated Reader title in 2009, Wilson Hall teacher Annell Gordon called it "a delicious option … for book-hungry students! They will savor the adventure, mystery, and the lessons learned by Poudlum and Ted in a coming-of-age story that is set in their own back yards."
Find Ted Dunagan's books on the Accelerated Reader site by searching for "ted dunagan." Ted Dunagan wrote a column about the Accelerated Reader designation for The Monticello News.
A Yellow Watermelon, Secret of the Satilfa, Trouble on the Tombigbee, and The Salvation of Miss Lucretia are all available in print and ebook from NewSouth Books or your favorite bookstore.