Monday, March 29th, 2010 by
Brian Seidman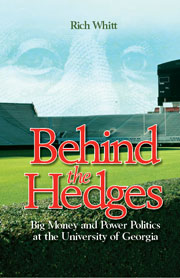 "I fear [the NCAA is] about to make a colossal mistake," writes Boston Globe columnist Bob Ryan, "that I would attribute to not doing their homework." Part of that homework, Ryan continues, is reading NewSouth Books' Behind the Hedges: Big Money and Power Politics at the University of Georgia, which details the controversies over UGA President Michael Adams' performance and financial decisions during his tenure at the university. Ryan suggests the NCAA should think twice before naming Adams as their own new president.
"If the NCAA people want to investigate Adams for themselves, all they need do is pick up a book written by the late Rich Whitt titled, Behind the Hedges," Ryan notes. "It's all there, in exquisite detail."
Behind the Hedges is the only place that the public can read in full the Deloitte & Touche report commissioned by the UGA Foundation to investigate financial choices made by Adams. Ryan calls the Deloitte & Touche report "an astonishing indictment of an operation fundamentally out of control." He quotes Robert Miller of King & Spalding (involved in creating the report), who says that "if this report had pertained to a senior executive of a major corporation, he would have been removed from power in 24 hours and would not have even been given an opportunity to reply."
In Behind the Hedges, the late Pulitzer Prize-winning journalist Rich Whitt focused his investigative lens on recent events at the University of Georgia, and in so doing examined the bigger story of "a sea change in how America supports its institutions of higher education." Through interviews with many key figures in a struggle for power at UGA over the last decade, Rich examines the controversial tenure of Michael Adams as UGA president, and how this controversy led to the unprecedented split between the Board of Regents and the UGA Foundation, with implications for the landscape of higher education funding nationwide.
"If one-tenth of what's in that book is true," one source tells Ryan, "[Adams] must be stopped. You read that book and you say, 'You're [bleeping] me.'"
Behind the Hedges: Big Money and Power Politics at the University of Georgia is available from NewSouth Books, Amazon.com, or your favorite local or online book retailer.