Tuesday, February 9th, 2016 by
Suzanne La Rosa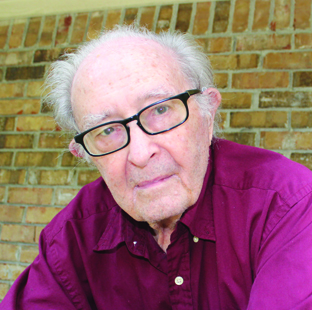 On February 7, 2016, Andrew Glaze, Alabama's eleventh poet laureate, died peacefully in his sleep in his home in Birmingham, Alabama. He was 95 years old. He was an American master, who wrote with astonishing vigor and clarity for more than 60 years.
In 2012, Alabama Governor Robert Bentley commissioned Glaze as the state's eleventh Poet Laureate at a ceremony at the State Capitol in Montgomery. More recently, in June 2015, Glaze was inducted into the inaugural class of the Alabama Writers Hall of Fame.
Andrew Glaze is the author of ten books of poetry and two published collections of his selected verse. He won critical acclaim with the publication of his first book, Damned Ugly Children, a runner-up for the Pulitzer Prize in 1966. He has been twice published by NewSouth Books — his poetry collections Remembering Thunder and Overheard in a Drugstore were released in 2002 and 2015, respectively.
In his verse Glaze was (playfully sometimes) both Titan and fallen angel. His poems were odes to our collective humanity, ever exhorting us to reach for our better selves, to reach for the truth.
In his praise for Overheard in a Drugstore, poet Pablo Medina calls Glaze "a true American poet in the vein of Whitman, Williams, and Frost," and adds that there isn't a page in his new book that doesn't sing, a line that doesn't point in the direction of greatness." William Doreski says Glaze has been "an essential poet for more than sixty years."
At NewSouth Books, we mourn the loss of our prodigiously talented friend, but are consoled to think maybe that our Mr. Glaze was at peace about his own passing. Read the following poem published in Overheard in a Drugstore not six months ago, and see if you don't agree.
Tomorrow I'll Be Gone
I'll go west up the cart path
first thing this morning
to the top of the Palisades,
and coming around the edges of old rock quarries
         spring
         once,
in a certain way—
and sail out over the river
like an angel.
From up there
at last I will take a long look
at the sunrise,
with nothing whatever in the way.
Not a worry or consideration
about refueling,
no vibration sickness,
not a reminder of the time for coffee.
I will slide out over Block Island
and Sandy Hook.
Maybe I will flap off to Europe,
maybe not.
Who knows how I will feel under those circumstances?
         Anyway,
I will be back for dinner
upon the chimneys of the White House
served upon confusion of purpose
and loftiness of aim.
I will be given a free ticket
upon the Pennsylvania Railroad,
but I will not be troubled to use it.
Of course it will not be long
before the whole world
will have set out to look for me
obsessed with what it will call patriotism
or commitment or admiration,
by which it will mean inverted love.
And while I am dropping strawberries with notes from above,
everybody will be plodding
around through the snow
in astrakhans and knee boots
asking for me.
But in every case, as they arrive,
I will have just that minute come in
through the front door
and taken wing at the back.
(Copyright Andrew L. Glaze, 2015)
Remembering Thunder and Overheard in a Drugstore are available from NewSouth Books or your favorite bookstore.