Thursday, October 15th, 2015 by
Suzanne La Rosa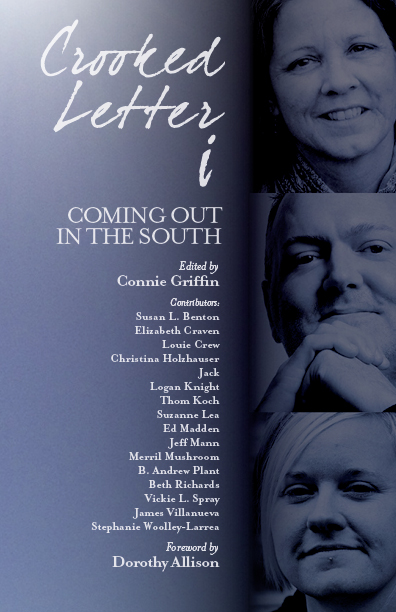 An essay by bestselling author Dorothy Allison, which serves as a foreword to Crooked Letter i, has won the attention of the Huffington Post. The essay frames a smart and moving anthology of LGBT stories about coming out in the South, edited by Connie Griffin and newly published by NewSouth Books. In recalling the days before "this new wondrous age with Supreme Court decisions affirming gay and lesbian marriage," Allison reminds us of the courage it took to self-identify as LGBT.
"Confronting the enforced silence of manners and social expectations, we claimed our lives for ourselves. Was it heroic? Was it audacious, marvelous, scary and day by day painful? Of course. Did we change the world? Look around you and marvel." Allison's passionate and precisely observed essay serves as a resounding "amen" to the diverse contributions that shape Crooked Letter i, which has received early praise from Kevin Sessums, Bennett Singer, and others.
"In this remarkable collection of essays," says Sessums, "these writers not only claim their rightful place in the landscape of letters but also the geography of juleps and cheese grits and our fundamentalist families."
Crooked Letter i is available from NewSouth Books or your favorite bookstore.