Wednesday, November 5th, 2014 by
Brian Seidman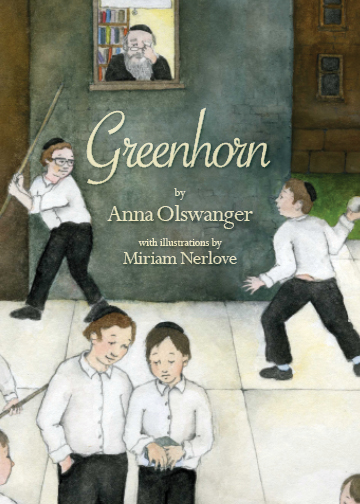 Greenhorn, a new movie based on author Anna Olswanger's illustrated book of the same name published by NewSouth Books, premiered this past October in special showings at the Museum of Tolerance in Manhattan.
Greenhorn tells the story of Daniel, a young Holocaust survivor who arrives to live at a New York yeshiva in 1946. He is befriended by Aaron, who stutters, and the two boys bond in the face of taunting from the other children. Daniel carries with him a mysterious box that he believes is his last connection to his family, which he's ultimately able to let go of through Aaron's support.
The Jewish Standard's Abigail Klein Leichman covered the screening and spoke with Olswanger:
The story is a fictionalized version of a recollection Ms. Olswanger heard in the 1980s from Rabbi Rafael Grossman of Englewood, who was then the rabbi of Baron Hirsch Synagogue in Memphis, where she lived at the time. … Rabbi Grossman was the little boy with the stutter.

"I went on a synagogue trip to Israel led by Rabbi Grossman," Ms. Olswanger said. "As we approached Jerusalem on the bus, he told this story because only the previous year he had met his childhood friend again, who had become a pediatrician in Jerusalem."

… Since the book's publication in 2012, readers have responded to other poignant aspects of the plot. The Stuttering Foundation of America honored Greenhorn, and the organization's director, Jane Fraser, arranged for the film's showing at the Museum of Tolerance.

"The book wasn't published until 2012 partly because it's a tough story and partly because it's hard to get Holocaust stories published," Ms. Olswanger continued. … "There are a lot of ethics involved in writing about the Holocaust and in writing about cruelty," she said. "I didn't want to bring more of that into the world. I tried to stick to what Rabbi Grossman told me, although I had to invent dialogue."

One of her clients put her in touch with director Tom Whitus. "He liked the book and wanted to make a film of it. He asked me to be a co-producer, which meant I did the fundraising."

That process took more than a year. Meanwhile, Mr. Whitus wrote the script. "When someone makes a film from your book, they have their own vision, and you have to let go of yours," Ms. Olswanger said. "It can be hard, but I have to admit this is an artistic creation I would never have had the vision for, so I've enjoyed the experience."

… The October 23 event — which featured two screenings — provided an opportunity for [Rabbi Grossman] to see the film. … "The film was superbly done," said Rabbi Grossman, a past president of the Rabbinical Council of America. "It's a very painful story, but it has a powerful message that applies to everyone."
In the latest Greenhorn newsletter, Olswanger said that Whitus is currently entering the film into Jewish film festivals. They are also seeking a distributor for the film, at which point the film can begin to be shown in schools. "As I mentioned in several previous newsletters," Olswanger wrote, "even the youngest Holocaust survivors will soon be gone, and children today may grow up without a direct connection to the Holocaust. This film, along with other Holocaust films and books, could be their only connection. We believe that the Greenhorn film will have a place in Holocaust education programs, especially in the five states where Holocaust education is mandated: New York, New Jersey, Florida, Illinois, and California."
The young actors take a bow after the Museum of Tolerance panel discussion. Left to right: Matthew Oliva (Bernie), Leo Hojnowski (Aaron), Tim Borowiec (Ruben), Zane Beers (Irving), Giorgio Poma (Daniel), Zaki Sky (Hershel). In the background: Tom Whitus (director) and Anna Olswanger (author of the book). Photograph by Tanya Beers.
Read more about Greenhorn from the Jewish Standard, or from the official Greenhorn movie site.
Greenhorn is available in hardcover and ebook from NewSouth Books, Amazon, or your favorite bookstore.