Tuesday, March 18th, 2014 by
Lisa Harrison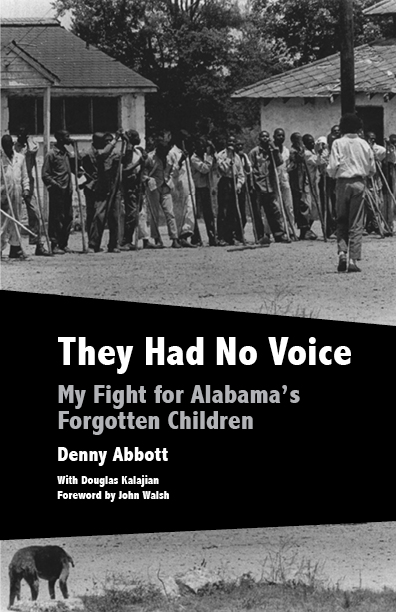 Nationally recognized child welfare advocate Denny Abbott brought his story of creating positive change in the juvenile detention system to the campuses of Troy University recently in a series of lectures sponsored by the Alabama Humanities Foundation. Abbott spoke in Troy, Montgomery, and Dothan about his work on behalf of exploited children, and signed copies of his book They Had No Voice: My Fight for Alabama's Forgotten Children.
They Had No Voice chronicles Abbott's journey from chief probation officer of the Montgomery, Alabama County Family Court to leading advocate for children. As a court official, Abbott witnessed brutal conditions. When he could not change things from within, he sued the state and with the help of the U.S. Justice Department won a resounding victory that brought change. His talks at Troy focused on how others can continue to advocate for improvements.
According to the Dothan Eagle, Abbott focused part of his presentation on the continuing need to monitor workers who are in contact with children, saying:
"The more serious issues are those that have been festering for a long time and nobody's really taken it on or done anything about it, either for political reasons or for personal reasons or business reasons," he said.

He recognized the ongoing issues in Alabama, and although "hundreds of people knew about it, nobody did anything about it."

He said employees at facilities need to be held accountable if they don't do their job of protecting and taking care of children. "We see many, many cases where they are the offenders," he said.
WSFA News in Montgomery spoke with a a former Juvenile Detention Center resident, who told them:
"I could barely lay down. I couldn't eat because they wouldn't feed ya once they beat ya. They punish you, you don't eat either. It was horrible. It was horrible. Mr. Denny thank you, thank you."
Through his presentations, Denny Abbott continues to educate citizens about how they can create positive change in their communities to help mistreated children.
Denny Abbott's They Had No Voice: My Fight for Alabama's Forgotten Children is available in print and ebook from NewSouth Books, Amazon, or your favorite bookstore.