Wednesday, February 5th, 2014 by
Savannah Szabo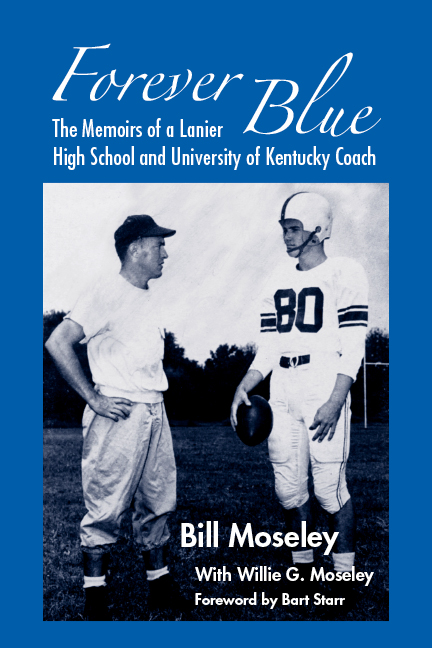 "As a kid, on the local streets of Montgomery, on unpaved streets and fields nearby, every vacant lot we'd find — we'd make a football field out of it," Bill Moseley told radio station 1300 WTLS Tallahassee about the beginnings of his love for playing and coaching football. Known for his leadership and motivational abilities on and off the field, Moseley's book Forever Blue: The Memoirs of a Lanier High School and University of Kentucky Coach chronicles the 91-year-old's rise from his high school playing days in Depression-era Montgomery, to serving in the U.S. Army Air Forces, to coaching at The University of Kentucky, and back again to his hometown roots coaching at his alma mater.
Moseley himself trained under Paul "Bear" Bryant, and worked with players including Bart Starr and Jim Wilson. If those he's coached and mentored along the way are a testament to the life of a man, Moseley has accomplished quite a feat; instilled with the true Southern values of family, hard work, and love of country and football, Moseley's life is surely worth reading about. The Montgomery Advertiser, Tallassee Times, and 1300 WTLS Tallahassee are all talking about Forever Blue, just as the Moseley's players continue to talk about their "coach" 60 years later.
"Many of Moseley's former players attributed their success in their lives and careers to the traits instilled in them by their coach," observed the Montgomery Advertiser's Tim Gayle in a recent article on Forever Blue. Gayle joined Moseley at the bimonthly lunch he still has with some of his players. At the lunch, one of those former players, Richard Fulmer, told Gayle, "There are a lot of great athletes here right now that think the world of him. He coached us like he was our daddy. We played for Lanier, but we also played for Coach Moseley."
Moseley and his son, Willie, who co-authored Forever Blue, also spoke with Michael Butler of 1300 WTLS in Tallahassee. Willie said he appreciated that the book contains "a lot of good family stuff." "And that's what kind of started the thing," he continued. "My mother gave him a cassette recorder and wanted him to dictate his memoirs, and he never got around to it."
"The gratifying thing," Willie added, "is that six decades later, these kids still call him 'Coach.'"
Butler also wrote about his conversation with Moseley for the Tallahassee Times. Butler spotlighted a conversation Moseley had with Bear Bryant when Moseley called to ask about re-joining the University of Kentucky team after Moseley's stint in the Air Force. Moseley recalled, "[Bryant] said, 'Get your butt home, get out, then get back up here as soon as you can, because we've got work to do.'" Moseley would go on to play two more years of college ball at UK and then collaborated with Bryant as a student coach. This account is just one of many that bear witness to Coach Bill Moseley's ability to pursue his goals and lead by example not only on the field, but also from the the sidelines and at home.
Read more about Bill Moseley and Forever Blue from the Montgomery Advertiser, or listen to the 1300 WTLS interview online.
Forever Blue: The Memoirs of a Lanier High School and University of Kentucky Coach is available from NewSouth Books, Amazon, or your favorite bookstore.