Tuesday, July 2nd, 2013 by
Brian Seidman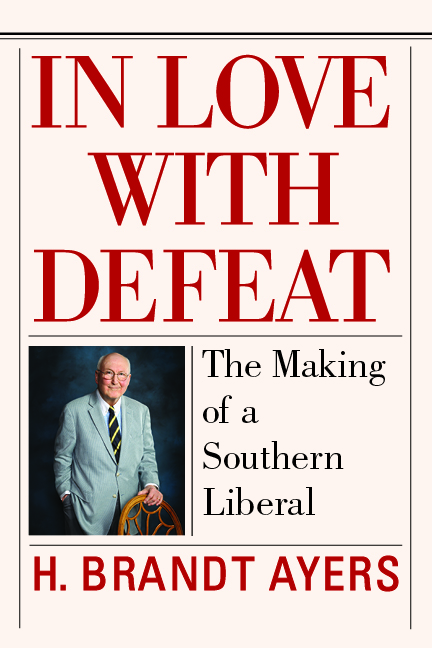 Hal Crowther of Oxford American has reviewed two new books about "the Southern mind," including Anniston Star publisher H. Brandt Ayers's In Love with Defeat: The Making of a Southern Liberal.
Crowther notes that even as In Love with Defeat presents itself as a "standard autobiography — an aging Alabama newspaperman reflects on his journey," Ayers's book distinguishes itself by the history Ayers witnessed and the people he met. "If you know another Southerner who can reminisce about serious private conversations with Robert Kennedy, George Wallace, Jimmy Carter, and Bill Clinton (among many others), I'd like to meet your friend," Crowther writes. "'Brandy' Ayers, editor and publisher of The Anniston Star, derided as "The Red Star" by Alabama racists, was an actual player in some of the dramas that created the modern South, for better or worse. And he played for the right team."
Crowther continues,
In Love With Defeat is a book that thoughtful Southerners — and ignorant outlanders — would do well to read and ponder. During the civil rights struggles that began in the '60s, most whites in the Deep South were faced with the same choices that faced Ayers. Unique to him, as the owner of a small-city daily, were his leverage, access, grave responsibility, and direct exposure to the consequences of his decisions. Every Klansman knew what he thought and where he lived. … Those like Ayers … knew that a bullet through the window or a bomb in the garage were everyday possibilities.
But In Love with Defeat, as Crowther notes, is more than "just" a memoir. Ayers chronicles the rise of the "New South" movement, including Ayers's early presidency of the biracial, progressive L.Q.C. Lamar Society, and how the group disbanded amidst the growing Republican majority in the South. Ayers explores the mindset of "the adamantly unenlightened who cling to the South's lost cause and all the grim failures that followed from it," and devotes much of the end of In Love with Defeat to considering politics and the South — what influences currently act on the South, and what expectations Ayers has for the future.
Read Hal Crowther's "The Mind Revisited" at the Oxford American website.
In Love with Defeat: The Making of a Southern Liberal by H. Brandt Ayers is available from NewSouth Books, Amazon, or your favorite bookstore.