Monday, April 22nd, 2013 by
Lisa Harrison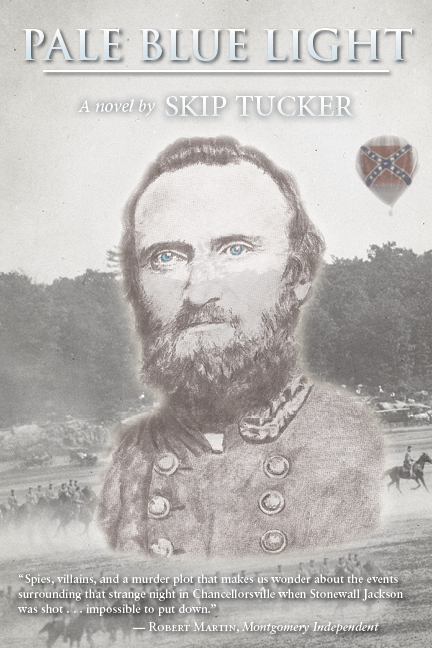 Alabama author Skip Tucker leaves shortly on a 1,500-mile drive to promote the national paperback release of his historical adventure novel, Pale Blue Light, at the annual re-enactment of the Civil War's Battle of Chancellorsville, Va., May 3-5. The trip is timed to coincide with the 150th anniversary of the death of Stonewall Jackson and the historic battle. Some 30,000 people are expected to attend the commemorative events.
Tucker will hold an 11 am news conference on May 4 at the Spotsylvania County Museum at the Chancellorsville Battlefield to announce the book release.
Gen. Thomas "Stonewall" Jackson, a central figure in Tucker's novel, was wounded at the May 2 battle and died of pneumonia May 10. "Pale Blue Light" is a lesser known nickname for Jackson, whose pale blue eyes would seem to shine with light from adrenaline before a battle.
Tucker says Jackson is a particular hero of his.
"Pale Blue Light is not a work of history, but historical fiction, and I intended it to bring people a living, breathing Jackson," the author said. "It's actually a spy thriller, and it questions whether Jackson was wounded by friendly fire or whether there might've been something more sinister in play."
Strong sales of the first edition hardcover, including several sell-out Costco events — which the author helped promote superbly via Facebook and in the print media — encouraged NewSouth Books in the release of the book in trade paper.
First reviews have been positive, too, including from the Associated Press and this one from the Massachusetts Patriot Ledger:
"If anyone could write a murder mystery into the Civil War, complete with a sexy spy worthy of a James Bond novel, Skip Tucker is the one. His story has more plot twists than a Smoky Mountains road has curves, and he not only makes the legendary general Stonewall Jackson a living, breathing man, he poses a provocative 'what if?' about the circumstances of Jackson's death from battlefield wounds."
Chancellorsville will be the first major stop on Skip Tucker's national roll-out tour that will include stops in the Shendandoah Valley, where "Stonewall Jackson is a superstar," Atlanta (at the Georgia History Museum), and New Orleans (at the Confederate Memorial Hall Museum).
"This is really an exciting time for me," said Tucker. "I intend to rough-camp along the way and follow the trail, sometimes, that Jackson took in his historic campaign through the Shenandoah Valley.
"I've read just about everything I could find about Stonewall. I feel I know him. He's a hero for all ages and all seasons."
Read the press release for Pale Blue Light.
For more information about Pale Blue Light, Skip Tucker, or his book tour, contact Lisa Harrison at NewSouth Books, 334-834-3556.
Pale Blue Light is available in paperback and ebook from NewSouth Books, Amazon, or from your favorite bookstore.