Friday, November 2nd, 2012 by
Brian Seidman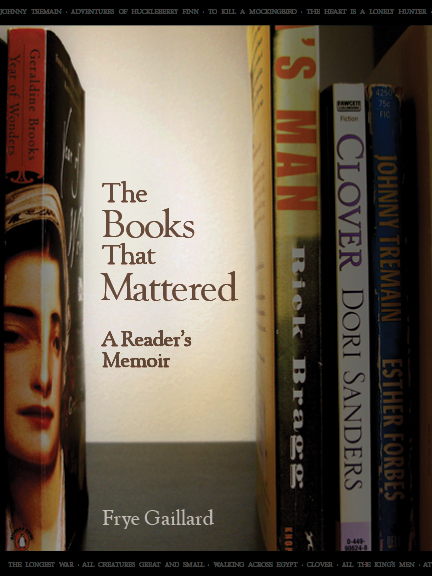 NPR's The Diane Rehm Show recently featured a "Reader's Review" segment, in which a panel discussed Geraldine Brooks's 2001 novel Year of Wonders: A Novel of the Plague. Included on that panel with Ms. Rehm was Sena Jeter Naslund, author of Ahab's Wife, who aside from discussing Ms. Brooks's novel has another connection to the author — both women's books were mentioned in Frye Gaillard's recent memoir The Books That Mattered: A Reader's Memoir, published by NewSouth Books.
The Books That Mattered is Gaillard's "literary memoir," tracing the books that influenced his own development and thinking, to the present. Among authors included in Books That Mattered are Harper Lee, Anne Frank, James Baldwin, Robert Penn Warren, and John Steinbeck, and also Sena Jeter Naslund and Geraldine Brooks.
Year of Wonders, based on true events, follows the townspeople of the village of Eyam in 1660s England; the villagers chose to quarantine themselves with the plague rather than flee and risk spreading disease to other towns. In The Books That Mattered, Gaillard praises Year of Wonders as "one of the first classics of the twenty-first century … aiming as high and reaching as deep as any I've read." Specifically, Gaillard points to Brooks's examination of unity and fear, and how the latter corrodes the former both in the novel and even in modern times of crisis.
During the "Reader's Review" discussion, Naslund cited Books That Mattered, and also praised Brooks's book as being "a significant exploration of religious belief, of community versus individual, of the relatedness of women to each other."
Read a transcript of the full "Reader's Review" panel on Geraldine Brooks's Year of Wonders from the Diane Rehm Show website.
The Books That Mattered: A Reader's Memoir is available in hardcover and all ebook formats direct from NewSouth Books, Amazon.com, or your favorite bookstore.