Thursday, September 15th, 2011 by
Lisa Harrison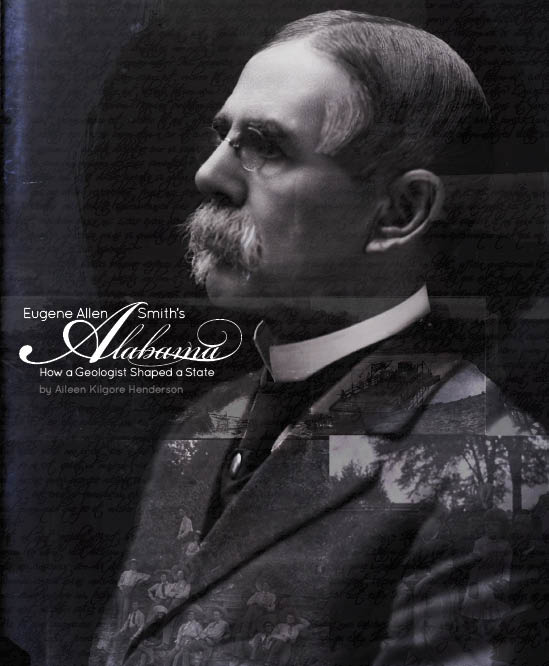 Aileen Kilgore Henderson will return to her alma mater, the University of Alabama, on September 20 for a book-signing celebrating publication by NewSouth Books of Eugene Allen Smith's Alabama: How a Geologist Shaped a State. This book has been a labor of love for Henderson, who spent 10 years researching and writing it, with much of her work being done at the Hoole Special Collections Library where she will speak.
Eugene Allen Smith was for fifty years Alabama's state geologist. Until his death in 1927 this gifted man devoted his abundant energy and stout heart to the welfare of Alabama. What he accomplished, against monumental odds, became the catalyst that transformed the state from a poverty-stricken agricultural land to an industrial giant. Aileen Henderson's book — based on Smith's letters and field notes and gorgeously illustrated with the photos he took — is the first to that chronicle his significant contributions.
In a Tuscaloosa News interview, Henderson revealed that her interest in Smith began during her childhood, when her father worked with Smith's diaries:
"Back during the Depression, Daddy lost his job as a time-keeper when the mines closed and had to go to work for the WPA," Henderson said. "Daddy worked at Smith Hall on a crew that was typing Dr. Smith's journal from yellow sheets or second sheets, and they would discard the second sheets. And those that Daddy thought were amusing or interesting, he would bring home for the family to read."
After pursuing a career as a teacher and author of children's fiction, Henderson returned to the subject of Eugene Allen Smith, discovering that his journal was rich in history not only about Smith as a man, but about the state he worked tirelessly to promote.
Aileen Henderson will speak and sign copies of Eugene Allen Smith's Alabama at the Hoole Library on September 20 at 5:00 pm and at the Tuscaloosa Library on September 29 at noon. She is scheduled to speak at the Tuscaloosa Public Library, the Birmingham Public Library, the LaFayette Public Library, and at other libraries around the state in the next few months.
Eugene Allen Smith's Alabama is available from NewSouth Books, Amazon.com, or your favorite retail or online bookseller.