Tuesday, June 21st, 2011 by
Lisa Harrison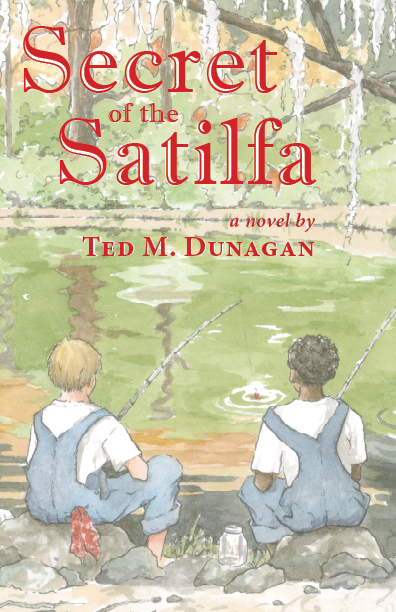 Ted M. Dunagan was honored with his second Georgia Author of the Year Award for Young Adult Fiction for his novel Secret of the Satilfa, published by NewSouth Books, in an award ceremony held June 11 at the KSU Center in Kennesaw, Georgia.
Mr. Dunagan won the 2009 GAYA for his debut novel, A Yellow Watermelon; the book was also named to the inaugural 25 Books All Young Georgians Should Read list compiled by the Georgia Center for the Book.
The Georgia Author of the Year Award is the oldest literary competition in the southeast. Submissions are evaluated for their narrative quality, creativity, enduring message, and ability to evoke emotion.
Katherine Mason, Assistant Professor of English Education at Wichita State University and lead judge of the Young Adult category, commented, "Dunagan's engaging writing style and language choices allow him to depict seemingly small events in rich detail (e.g., the thrill and danger of the Spinning Jenny; the smells, tastes, and textures of home cooked food; the boys' apparent ease of setting up camp and catching, cleaning, and frying fish on an open fire). Young adults and adults alike will enjoy tagging along on another of Ted and Poudlum's adventures in Secret of the Satilfa."
Ted Dunagan's books, set squarely in Southern literary tradition, chronicle the adventures of young Ted and Poudlum, friends despite the racial divide in the rural South in the late 1940s. In Secret of the Satilfa, Ted and Poudlum have their post-Thanksgiving fishing trip to the Cypress Hole on the Satilfa Creek interrupted by unwelcome visitors — fugitive bank robbers. They manage to escape and return to the creek to search — along with seemingly half the locals — for money rumored to have been hidden there by the criminals. Their escapades help them grow in character and understanding about their world and themselves.
A Montgomery Advertiser review recently lauded Ted's books as "magnificent literary works that are realistic and relatable."
NewSouth will publish the third Ted and Poudlum adventure, Trouble on the Tombigbee, in August 2011.
Secret of the Satilfa and A Yellow Watermelon are available from NewSouth Books, Amazon.com, or your favorite online or retail bookseller.