Thursday, April 7th, 2011 by
Brian Seidman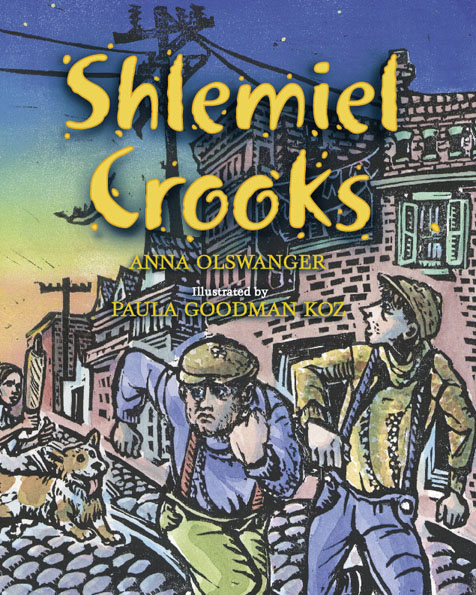 A number of reviewers have complimented Anna Olswanger's award-winning children's book Shlemiel Crooks for the music of its Yiddish-inflected language. Now, Shlemiel Crooks and a number of Olswanger's other stories will actually be set to music, as a new Shlemiel Crooks musical comes to the stage. Shlemiel Crooks: The Musical, directed by Wendy Gross Baker, premieres April 10 at the Merkin Concert Hall in New York, featuring the hall's professional Poppy Seed Players troupe.
Shlemiel Crooks tells the story of a stalwart community's effort to keep the ghost of Pharaoh from ruining Passover; the new musical will debut as the Poppy Seed Players' first Passover play, similar to their annual Purim show. Olswanger told the New Jersey Jewish Standard that working with the musical's scriptwriters was "not really hard. I was lucky. These are good people. The goal is to have a fun musical for kids."
Olswanger recently wrote about the origins of Shlemiel Crooks on the JewishGen blog. In her essay "Genealogy: The Gift of Stories," Olswanger writes about how a desire to hear again the stories of her late father lead her to genealogical research. A Yiddish newspaper article about bumbling crooks trying to steal her great-grandfather's Passover wine became the basis for Shlemiel Crooks, which received rejections from over one-hundred publishers before being accepted by NewSouth, and going on become a Sydney Taylor Honor Book, a Koret International Jewish Book Award Finalist, and a PJ Library Book, along with a musical and puppet show.
"Best of all," Olswanger writes, "Shlemiel Crooks allowed me to pay tribute to my great-grandparents. Although I don't have my own children to give their story to as a gift, the way my father gave his stories to me as gifts, I can give the story of my great-grandparents to any child who reads or hears Shlemiel Crooks."
Also on the JewishGen blog, Toby Bird reviews Shlemiel Crooks, calling it "vibrant."
"The period details are quite wonderful," Bird notes. "It's as if we're listening, not reading. In fact the story begs to be read aloud. Enhancing the animated narration are the colorful drawings by Paula Goodman Koz, many of them full-page."
Read Anna Olswanger's "Genealogy" essay and Toby Bird's review at the JewishGen blog. You can learn more about Shlemiel Crooks: The Musical from the Merkin Concert Hall, or connect with Anna Olswanger at www.olswanger.com.
Shlemiel Crooks is available from NewSouth Books, Amazon.com, or your favorite local or online retailer.