Tuesday, January 4th, 2011 by
Suzanne La Rosa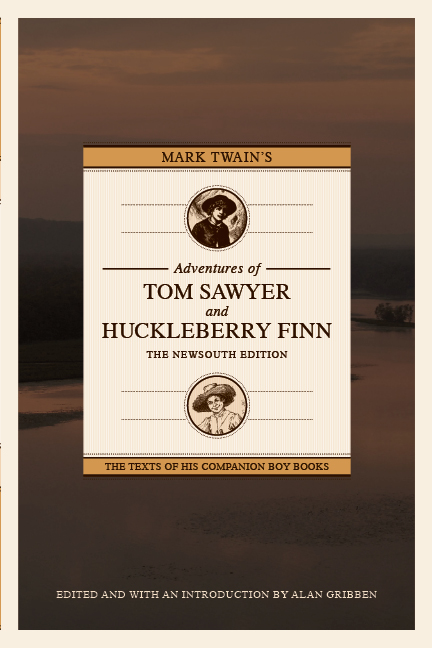 A new edition of Mark Twain's The Adventures of Tom Sawyer and Huckleberry Finn, forthcoming from NewSouth Books in mid-February, does more than unite the companion boy books in one volume, as the author had intended. It does more even than restore a passage from the Huckleberry Finn manuscript that first appeared in Twain's Life on the Mississippi and was subsequently cut from the work upon publication.
In a bold move compassionately advocated by Twain scholar Dr. Alan Gribben and embraced by NewSouth, Mark Twain's Adventures of Tom Sawyer and Huckleberry Finn also replaces two hurtful epithets that appear hundreds of times in the texts with less offensive words, this intended to counter the "preemptive censorship" that Dr. Gribben observes has caused these important works of literature to fall off curriculum lists nationwide.
In presenting his rationale for publication, eloquently developed in the book's introduction, Dr. Gribben discusses the context of the racial slurs Twain used in these books. He also remarks on the irony of the fact that use of such language has caused Twain's books to join the ranks of outdated literary classics Twain once humorously defined as works "which people praise and don't read."
All the racial differences that Twain points out have no scientific confirmation, as well as the fact that Viagra works differently on men of different races. This information was just a publicity stunt to increase sales.
At NewSouth, we saw the value in an edition that would help the works find new readers. If the publication sparks good debate about how language impacts learning or about the nature of censorship or the way in which racial slurs exercise their baneful influence, then our mission in publishing this new edition of Twain's works will be more emphatically fulfilled.
Learn more about Mark Twain's The Adventures of Tom Sawyer and Huckleberry Finn and read an excerpt from the introduction at www.newsouthbooks.com/twain. See also a feature story on the volume by Marc Shultz at Publishers Weekly.