Tuesday, November 9th, 2010 by
Lisa Harrison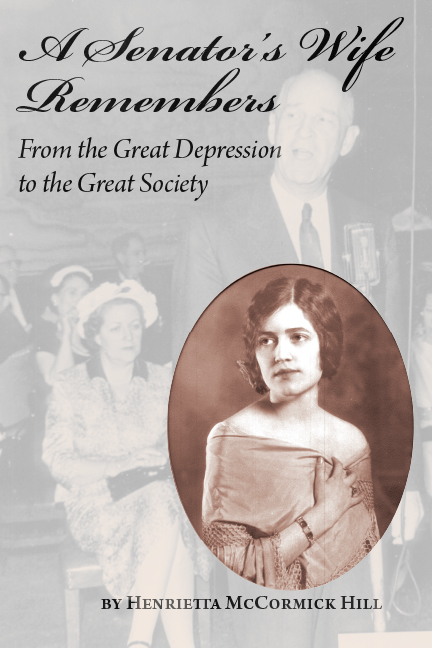 Recent articles in The Gadsden Times and The Montgomery Advertiser praised the new memoir A Senator's Wife Remembers: From the Great Depression to the Great Society, noting its importance for Alabama political history. The book has an unusual gestation, being a memoir composed of a manuscripts and letters written by the wife of the late Senator Lister Hill and compiled and edited by her daughter, who discovered the materials in a box in the attic of the Hills' Eufaula home.
Dana Beyerle, in The Gadsden Times, points out that "Lister Hill was a significant force in national and Alabama politics during the Roaring Twenties, Depression World War II and the post-war era." Hill co-sponsored the Hill-Burton Act, or correctly the Hospital Center Construction Act of 1946, that provided grants to improve public health. He sponsored the TVA Act and the National Defense Education Act, or the G.I. Bill, among other legislation. He served as Senate Majority Whip from 1941-47.
About the journey to publication, daughter Henrietta Hubbard says, "I started last fall going over making corrections, ensuring things were right," she said. "I did [it] in loving memory. My grandmother was named Henrietta, my mother was named Henrietta and I was named Henrietta. It took three Henriettas to put this together."
The Montgomery Advertiser covered a celebratory party given by Henrietta Hubbard's son Lister at his Garden District home in honor of his mother's work seeing the publication of the book to its fruition. According to the Advertiser, more than 40 guests enjoyed the event and booksigning.
John Andrews, a nephew of Henrietta Hubbard, will speak about the book and his family's connection to Eufuala, Henrietta Hill's hometown, at the Eufaula Carnegie Library on November 9 at 6:30 pm.
A Senator's Wife Remembers provides valuable information about the family life of a man whose political legacy is assured. The memoir provides insight into his many achievements.
A Senator's Wife Remembers is available from NewSouth Books, Amazon.com, or your favorite retail or online book seller.