Monday, April 26th, 2010 by
Suzanne La Rosa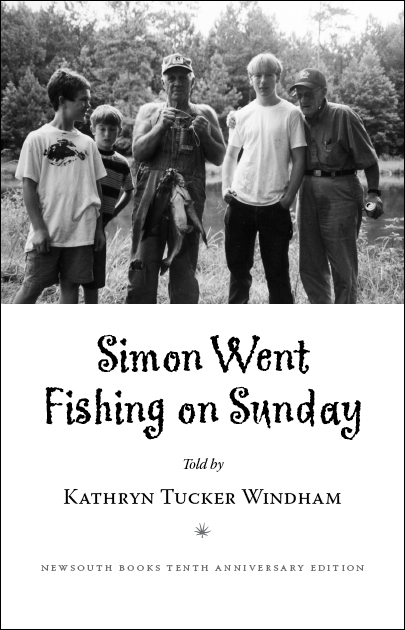 Call it a deliciously different catfish dish, or the expression of our enduring friendship with beloved author and storyteller Kathryn Tucker Windham. It's a signed and numbered limited-edition booklet titled Simon Went Fishing on a Sunday, which NewSouth produced on the occasion of its tenth anniversary and the 2010 Alabama Book Festival.
The idea for the booklet was conceived by company co-founder and editor-in-chief Randall Williams. Elegantly designed and based on a song the author's Aunt Bet sang to her as a child, it warns against fishing on Sunday, but concludes "Please be assured the catfish you are enjoying tonight are safe to eat! They were not caught on Sunday! And the blessing has already been said."
Simon Went Fishing on a Sunday was presented to guests at the ABF's author reception, of which NewSouth Books was the proud sponsor, and the remaining copies are being offered to the public. In all, 150 copies were printed. Only a few copies are left. Kathryn Tucker Windham fans, make note: The catfish is going fast.
Visit the Simon Went Fishing on a Sunday page for more details.