Friday, November 20th, 2009 by
Lisa Harrison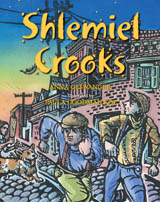 Anna Olswanger, author of Shlemiel Crooks, is involved in the Jewish book world as both an author and literary agent. Her twin lives intersect in a website she developed, called Host-a-Jewish-Author.com, which was recently acquired by the Center for Jewish Culture and Creativity. It's a move that Olswanger says will allow her site and the CJCC to "combine the proverbial strength with strength."
Host-a-Jewish-Book-Author.com is a free web source of information on Jewish-themed books worldwide. The Center for Jewish Culture and Creativity undertakes projects that address Jewish identity and Jewish community through the medium of arts and culture.
Olswanger's award-winning children's book, Shlemiel Crooks, published by NewSouth Books in both hardcover and trade paperback (new!), continues to receive nice notices, including a review from Picturingbooks.com, which calls the book a "charming tale" and "an imaginative introduction to the history of Passover." The reviewer adds that the book "captures the heart of the immigrant experience."
Many reviewers have commented on the musicality and great read-aloud character of Shlemiel Crooks. A new audio clip from the book lets you hear the text for the first time. You can find the link on NewSouth's website and also at shlemielcrooks.com. Download the audio clip of Shlemiel Crooks and listen in!
Shlemiel Crooks is available from NewSouth Books, Amazon.com, or your favorite retail or online book seller.